Paris Mercurial Conference Paris 2022
From Wednesday 21 September 2022 at 09h00 to Friday 23 September 2022 at 18h00.
IRILL, sorbonne university, 4 place Jussieu, Paris, Île-de-France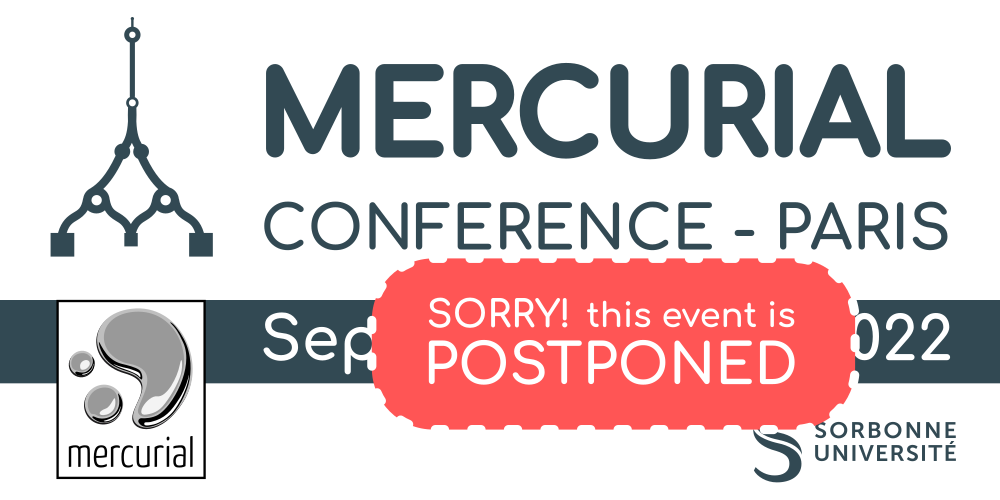 Three years after its first edition, we are happy to finally announce Mercurial Paris Conference 2022. Mercurial Paris Conference 2022 is a professional and technical conference around mercurial scm, a free, distributed source control management tool.
The 2022 edition will be a three days event that take place from Wednesday 21 of September 9:00 am to Friday 23 of September 5:00 pm in Paris, Sorbonne University, France.
The first day, will be dedicated to workshops, the second to talks and the third to sprint and hack around Mercurial.
Exchange ideas, share and present your experience, get connected to core Mercurial developers and users from companies that do Source Code Management in different industries and at a different scales.
The event is open to everyone, register now!
Trois ans après sa première édition, nous sommes heureux d'annoncer enfin la conférence Mercurial Paris 2022. Mercurial Paris Conference 2022 est une conférence professionnelle et technique autour de mercurial scm, un outil de gestion de contrôle de source libre et distribué.
L'édition 2022 sera un événement de trois jours qui se déroulera du mercredi 21 septembre 9h00 au vendredi 23 septembre 17h00 à Paris, Sorbonne Université, France.
Le premier jour sera consacré à des ateliers, le second à des conférences et le troisième à des sprints et des hack autour de Mercurial.
Échangez des idées, partagez et présentez votre expérience, connectez-vous avec les principaux développeurs de Mercurial et les utilisateurs d'entreprises qui font de la gestion de code source dans différentes industries et à différentes échelles.
L'événement est ouvert à tous, inscrivez-vous dès maintenant !
Informations
Website

Contact

Tags