This event is part of
Paris Présentation GNU-Linux avec la distribution Mageia.
On Saturday 14 March 2020 from 15h00 to 17h00.
le Bar commun, 135 rue des Poissonniers, Paris, Île-de-France
Au Bar commun, un café associatif, à l'occasion du Libre en fête, un atelier anti-GAFAM est organisé le samedi 14 mars à partir de 15h.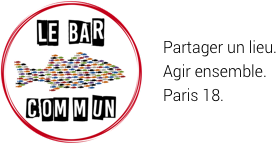 Au programme : Isabelle Dutailly et Jean-Philippe Squelbut nous présenteront GNU-Linux, notamment avec la distribution Mageia.
Entrée libre (en fête), aucune obligation de consommer !
Informations