This event is part of
Paris Pourquoi les associations doivent-elles privilégier le Logiciel Libre ?
On Friday 15 March 2019 from 21h00 to 23h00.
Le Bar commun, 135 rue des Poissonniers, Paris, Île-de-France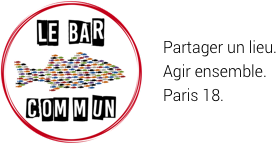 Le Logiciel Libre est une notion assez peu connue et assez peu attirante, car relevant d'un domaine très hermétique aux non initiés: l'informatique.
Il est pourtant l'un des meilleurs garants de nos libertés et de nos démocraties pour les décennies qui arrivent.
Laissez-vous tenter par cette discussion proposée par Laurent Costy, membre de l'APRIL (https://www.april.org), pour comprendre de quelle manière le Bar commun (et toutes les autres structures souhaitant participer à cet événement) pourrait participer à la promotion du Logiciel Libre et agir ainsi pour la pérennité d'un modèle de société tourné vers l'échange et la solidarité.
Informations
Website

Contact

Tags