Paris Lancement de la campagne de dons de La Quadrature du Net !
Date and place
On Tuesday 14 November 2017 from 19h00 to 23h59.
La Paillasse, passage A/2 Paris Île-de-France
Description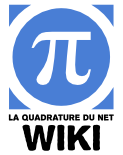 Rejoignez-nous pour un moment convivial, qui marquera le début de notre campagne de soutien annuel !
Nous y présenterons le travail effectué, les projets futurs, et il y aura quelques petites surprises !!!
Informations
URL https://wiki.laquadrature.net/Quadr%27ap%C3%A9ro
Contact