Caen Atelier "les biens communs numériques"
Date and place
On Tuesday 9 January 2018 from 17h00 to 19h00.
Artifaille 51 Quai de Juillet Caen Normandie
Description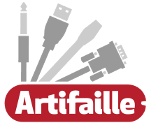 Cette présentation s'intéressera aux biens communs numériques.
Des principes fondateurs aux perspectives du mouvement, en prenant l'exemple de Wikipédia, OpenStreetMap et OpenFoodFacts
Atelier limité à 12 places. Inscriptions en vous rendant au local Artifaille (51 quai de Juillet à Caen), en écrivant à contact@artifaille.fr ou en utilisant le formulaire de contact.
Informations
Website http://artifaille.fr/agenda-classique
Contact